The Most Effective Security Awareness Training
Because hackers are getting smarter.
Your staff has to stay a step ahead.
Old school Security Awareness Training just doesn't cut it anymore. Today, your employees are frequently exposed to sophisticated phishing and ransomware attacks.
KnowBe4 is the world's most popular integrated platform for awareness training. We help thousands of organizations manage the continuing problem of social engineering.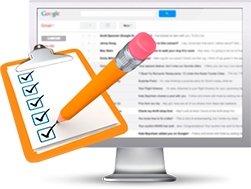 Baseline Testing to assess the Phish-prone percentage of your users through a free simulated phishing attack.
Train Your Users with the world's largest library of security awareness training content; including interactive modules, videos, games, posters and newsletters. Automated training campaigns with scheduled reminder emails.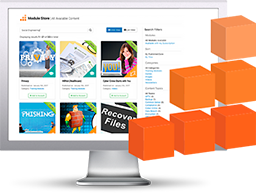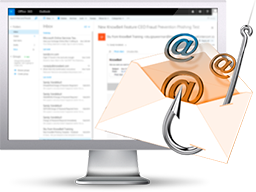 Phish Your Users Best-in-class, fully automated simulated phishing attacks, hundreds of templates with unlimited usage, and community phishing templates.
See The Results Get tremendous ROI with enterprise-strength reporting, including stats and graphs for both training and phishing.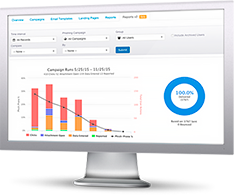 Unlimited Use
3 Training Access Levels: I, II, and Unlimited, giving you access to our content library of 300+ items based on your subscription level.
Unlimited access to all phishing features.
No artificial license ceilings and
10% overage allowance.

Custom Phishing Templates
Hundreds of easy-to-use existing templates
Customizable scenarios based on personal information, for targeted spear-phishing campaigns, replacing fields with personalized data.

Custom Landing Pages
Each Phishing Email Template can also have its own Custom Landing Page.
This allows for point-of-failure education and landing pages that specifically phish for sensitive information.

Simulated Attachments
Customized Phishing Templates can also include simulated attachments in the following formats: Word, Excel, PowerPoint and PDF, (also zipped versions of these files).

Detailed Reporting
You'll see reporting for phishing campaigns as well as a general overview of your last 5 campaign
Drill-down into one-time and recurring campaigns for more detail.

Crypto-Ransom Guarantee
KnowBe4 is so confident our security awareness training program works, they'll pay your ransom if you get hit with ransomware while you are a KnowBe4 customer.